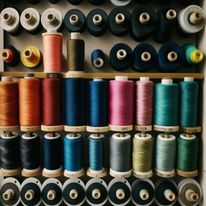 Welcome to the world of machine stitching, where precision meets creativity and every thread weaves a story of artistry! Our collection of machine stitching essentials, including threads and needles, is designed to empower both beginners and seasoned stitchers to bring their sewing visions to life with ease and finesse.
Discover a wide range of threads that are not only strong and durable but also available in a spectrum of colors to suit every project. From vibrant hues to subtle shades, our threads allow you to add the perfect finishing touch to your sewing creations. Whether you're quilting, embroidering, or simply stitching garments, our threads ensure flawless results and enduring strength.
The heart of every successful sewing project lies in the choice of needles, and we take pride in offering an array of needles that cater to various fabric types and stitching techniques. From universal needles for everyday sewing to specialty needles for delicate fabrics or quilting, our collection ensures you have the right tool for the job, no matter the project.
Embrace the joy of machine stitching as you explore your creative potential and let our threads and needles be your trusted companions on your sewing journey. Whether you're a seasoned seamstress or a beginner, our products are designed to inspire confidence and elevate your sewing experience.
We understand that each sewing project is unique and personal, which is why we strive to offer a diverse selection of threads and needles that cater to your individual needs and preferences. Our commitment to quality ensures that you receive materials that are reliable, consistent, and a pleasure to work with.
From fashioning stylish garments to crafting intricate quilts and bringing artistic embroidery to life, our machine stitching essentials are here to support your every creative endeavor. Unleash your creativity, sew with confidence, and let our threads and needles be the foundation of your sewing success.
Welcome to the world of machine stitching, where every stitch is a testament to your skill and passion for creating. Let our high-quality threads and needles be your trusted companions on your sewing adventures, and may each project be a masterpiece of artistry and craftsmanship. Happy stitching!